TransparencyCamp Europe is right around the corner on 1 June! If you haven't registered yet, make sure you get your tickets here! Open State Foundation is excited to host the open government community here in Amsterdam and talk about how open data, technology and civic engagement can be used to make Europe more transparent.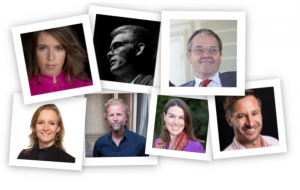 Who is going to be with us?
Just to let you know: TransparencyCamp Europe is honoured by the presence of among others:
Where is it?
The unconference will be held on 1 June from 9:30 till 19:00 in Amsterdam at Pakhuis de Zwijger. It is near Amsterdam Central Station. The address: Piet Heinkade 179, 1019 HC Amsterdam.
What is it?
If you've never been to a TCamp before, we're going to start the day with a few short opening talks. Before the unconference sessions begin we'll build 'The Wall' with your submissions! Anybody can host a session, whether you're an expert looking to discuss the current state of affairs or if you just started a project and want input of others (several rooms have beamers so short presentations/demo's are possible). Everything goes as long as the session's topic is open for conversation/discussion! Check out this video for a great explanation.
We've already asked some of the community to prepare a few sessions in advance to give you an idea of what it's all about. You probably guessed it: topics include opengov, transparency, open data, civic tech, decision-making, lobby registers, open contracting, company registers and beneficial ownership. But the rest of the schedule is completely open to be set by you at the start of the event. We already have an online schedule.
Lunch
There will be several short lightning talks during lunch, followed by app pitches by teams from the online App Competition and local events that have taken place in European capitals during the past months.
Afternoon and happy hour!
The rest of the afternoon is filled with three rounds of sessions and ends with drinks and a happy hour, but not after some recaps, closing statements and the announcements of the App Competition winners.
Side events
On May 31, the day before the unconference, there will be two side events which you can go to if you're already in Amsterdam. Please register for them if you plan to attend:
Are you ready?
We can't wait to get this party started. And don't forget, TransparencyCamp Europe is happening on 1 June. Piet Heinkade 179, 1019 HC Amsterdam. Don't miss out and register today! We're looking forward to seeing you all here in Amsterdam. If you have any urgent questions, please get in touch with Open State Foundation's Ouafa Oualhadj via tcampeu [at] openstate.eu.