App Competition – Terms and conditions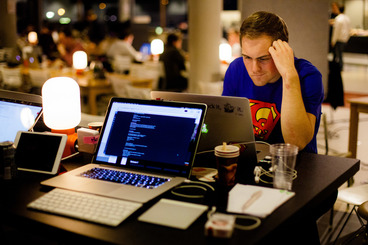 The App Competition is open to all European residents. We can't stress this enough: regardless of your background, profile, age, or skillset, we're open to hearing your thoughts, and open to reviewing your application, tool or app in our competition. Oh, and it's free to join, too.
You can choose to start a whole new project for our competition, or submit a project that is already in development. (If your tool is already in development, we'll obviously pay extra attention to the open datasets you used specifically for this competition.)
Work with at least one European Union open dataset, whether on the local, national or supranational level. Whether you combine this data with any other datasets or not is up to you.
Working prototypes
When you submit your application to the competition, you need to have a working prototype ready to show us. You're allowed to send in multiple applications to this App Competition.
You can participate as an individual, or as a team. There's no maximum to the number of participants per team. There is, however, a limit on the number of delegates a team can send to TransparencyCamp Europe Unconference should they be nominated.
We expect at least one member of each team to be present at TransparencyCamp Europe Unconference in Amsterdam, June 1st.
Of course, your application needs to comply with all existing EU law and national law of EU member states.
Three hurrays for open source projects
Naturally, all intellectual property (IP) submitted by teams will remain theirs during and after the competition. (But three hurrays for open source projects!)
By submitting an app, you agree that we can use your name, photo and/or artwork to promote your app, the competition and/or TransparencyCamp Europe.
Participation is excluded to anyone that has been involved directly or indirectly in organising the competition.
By sending in an application or tool, you agree to these terms of service of the competition. And who knows, you might even improve on the EU, or open governing.
Procedure
Send in your application or tool by using the App Competition form, until May 1, 2016. Before May 9, five nominees will be selected from contestants of the online App Competition and will be provided travel to and accommodation in Amsterdam so they can attend the TransparencyCamp Europe Unconference. They will be joined by the winners of the local events held across Europe. All these nominees will then pitch their apps before a jury after which the overall winner, second place and third place will be announced. Nominees need to respond within a week. If there's no response from a nominee within a week, the jury holds the right to nominate another participant of the competition.
Should you be nominated, we kindly ask you to present your tool or application at TransparencyCamp Europe Unconference. The app or tool presented there can't be different from the one your team submitted.
Winners
The jury will announce three winners at the TransparencyCamp Europe Unconference. Prizes are as follows:
1st prize (two persons):
round-trip (economy class) Europe – Washington DC, USA
hotel for two nights in a three star hotel in Washington DC
Participants are invited to make their own arrangements. All expenses will be reimbursed up to a maximum of €2000 per person.
1st, 2nd and 3rd prize (two persons):
trip to Brussels by train or plane (economy class)
hotel for one night in a three star hotel in Brussels
special 'Transparency Trip' in Brussels; you will visit several EU institutions where you will be able to pitch to and discuss your application with a select group of data managers of European institutions
Participants are invited to make their own arrangements. All expenses will be reimbursed up to a maximum of €750 per person.